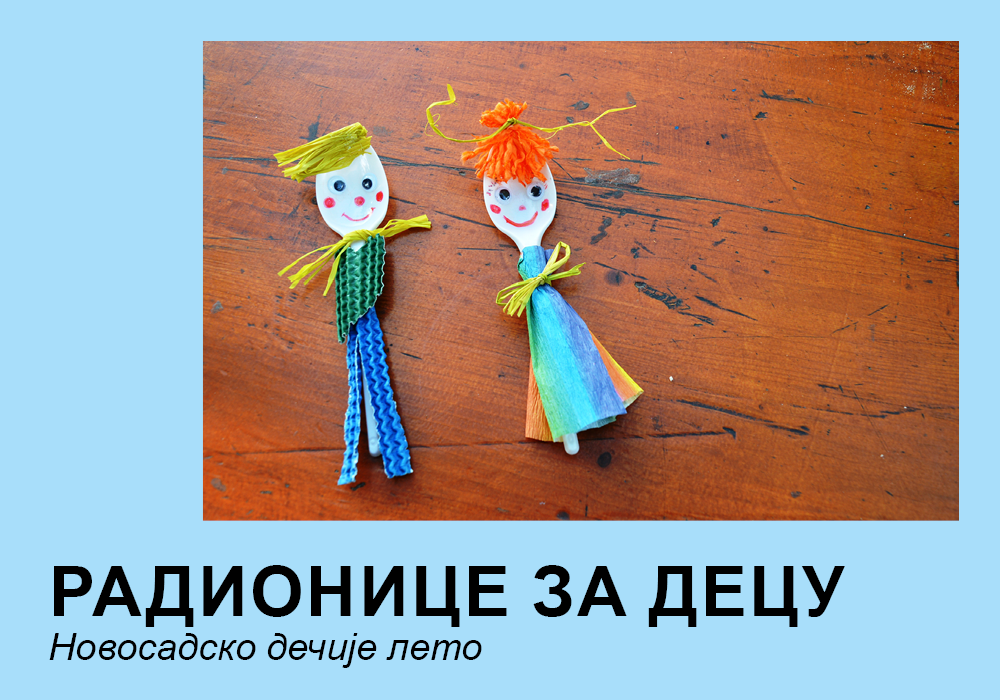 Within the manifestation Novi Sad Children's Summer, organised by the Novi Sad Children's Cultural Centre, from 12 until 16 July, children will have an opportunity to enjoy the Creative Camp in the Egység Cultural Station.
The Creative Camp includes workshops dedicated to children aged 6-12 years and will be implemented in the yard of Egység, every day from 10 a.m. until 1 p.m.
Applications for workshops via e-mail address [email protected] or by sending a message to +381 63 521 123 are necessary.
Programme:
Monday, 12 July
THERE'S A LONG WAY FROM THE WHEEL TO THE INTERNET (SR. OD TOČKA DO INTERNETA DUGAČAK JE PUT) – inventions that changed the world
Participants of the workshop will find out what happened on the way from the wheel to the internet, what objects made the world we live in today an incredible place, hoe the world looked like before the invention of the telephone, light bulb, penicillin, etc. The creative part will include the making of a 'time capsule' and a thinking hat.
Tuesday, 13 July
HAPPY ALCHEMISTS (SR. SREĆNI ALHEMIČARI)
Have you ever wished to turn a piece of metal holding in your hands into pure gold? Who are the alchemists? Cheaters or mystical immortal know-it-alls who turn metal into gold? Elixir of life or philosopher's stone? You will get answers to these questions, while the workshop will feature the making of a golden goose. You can also choose: theatre workshop, dance, sport.
Wednesday, 14 July
MOZART'S DREAM AND THE MAGIC FLUTE (SR. MOCARTOV SAN I MAGIJA ČAROBNE FRULE)
When Mozart was a child, he fell asleep and had a strange dream… He gave himself a task to save the world from the evil Queen of the Night who stole the Sun! With his friend, folksy birdcatcher Papagneo, and with the help of magic flute, he will try to rescue her princess Pamina and prince Tamino from enchanted castle. Participants of the workshop will have to solve the riddle so that Mozart, i.e., Wolfie, how his family called him, could reach the castle, conquer the magic and reverse the day. You can also choose: theatre play, dance, sport.
Thursday, 15 July
NIKOLA TESLA WASN'T BORN YESTERDAY – HE LIT THE WORLD! (SR. NIKOLA TESLA NIJE SISAO VESLA – OSVETLIO JE SVET!)
You will find out why teachers in Smiljan thought that little Nikola had been cheating more than a century ago, what he was dreaming about when he was a child, how to get from Lika to New York, what inventions made him famous, as well as about happy and sad moments from his life. During the creative part, we will show you several experiments you can try at home. You can also choose: theatre workshop, dance, sport.
Friday, 16 July
King's Scouts Teach
With our guests, King's scouts, we will master the basic scout skills, important knowledge that every scout has to gain: map orientation and orientation in nature, knowledge of plants and wildlife, traffic signs and how to tie ropes. We will make wooden constructions and talk about fire, which is essential. You can also choose: theatre workshop, dance, sport.