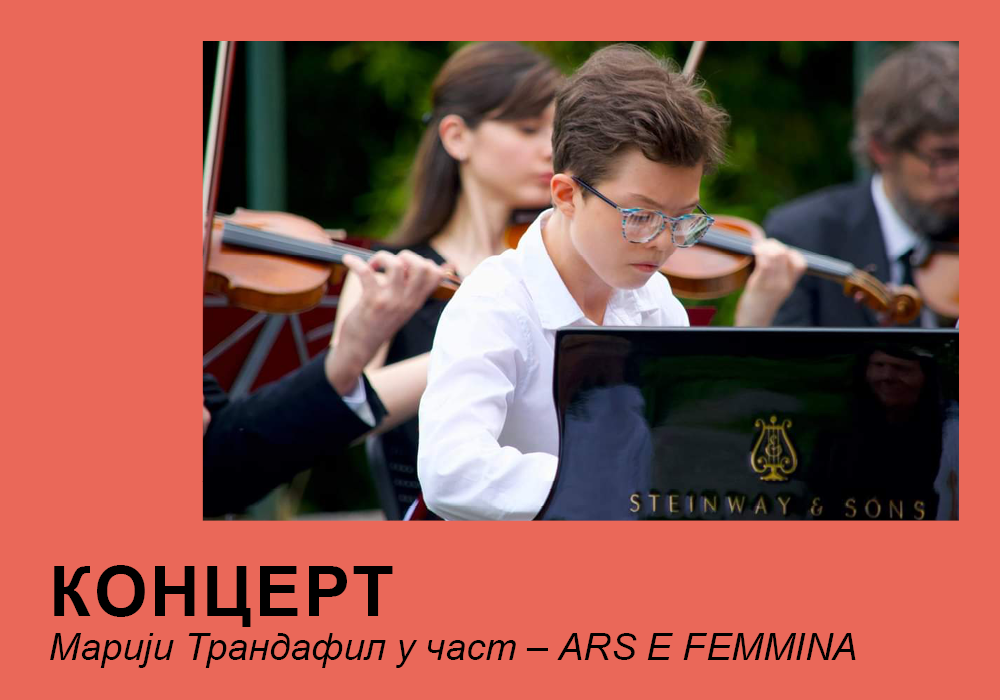 The concert in honour of the great Serbian benefactress entitled 'In Honour of Marija Trandafil – Ars e femmina' will be held in the Egység Cultural Station, on 26 November at 7:30 p.m. During the concert, successful young artists from Europe and Novi Sad will present themselves.
Pianist Mattias Antonio Glavinić comes from Italy and although he is only eleven years old, he is the winner of numerous awards at prestigious piano competitions. Žiga Čopi, an eighteen-year-old musician from Slovenia will also join the performance. He has just started with studies and become one of the most promising young singers, and numerous awards he won at singing competitions are the proof. Moreover, the fourteen-year-old violinist Sergej Skeledžija from Novi Sad, who has received over 20 prizes for his achievements during his studies, will join the performance as well.
Subtly reminding how noble and significant the role of a female artist is, the authors of the 'Ars e femmina' project, pianist Jelena Simonović Kovačević and soprano Vitkay-Kucsera Ágota, wanted to encourage the affirmation of young artists and point out the importance of European heritage tradition in the classical music genre. This project combines several different types of artistic expression – musical, visual, theatrical, literary and multimedia, and is part of the programme and supported by the European Capital of Culture for 2022.
'My greatest fear is not that I will be forgotten, but that my works will disappear in the dust of history as if they never meant anything. My greatest hope is that my good deeds have an echo long after my death and that they will be an inspiration to other benefactors', said the great Serbian benefactress Marija Trandafil.
Let's prove that the echo of good deeds is still heard. See you at the concert in Egység!